Fort Myers Beach, FL | Toll-Free Reservations: (800) 657-4967
Beach Vacations with a Tropical Twist on Sunny Fort Myers Beach
Pairing its playfully Polynesian vibe with an unparalleled level of personal service, The Outrigger Beach Resort on beautiful Fort Myers Beach exudes old school warmth and relaxation. Fun and family-friendly, this beachfront classic taps decades of hospitality know-how to delight its loyal guests. An unwavering dedication to comfort, value and quality is reflected throughout the resort, from its 144 comfortably furnished guest rooms and two casual restaurants to its expansive beach, where guests collect seashells, sip pina coladas and listen to live music at the Tiki Bar and watch dolphins frolic in the warm Gulf of Mexico waters.

Whether you're planning a beach vacation, destination wedding or family reunion, The Outrigger Beach Resort radiates the relaxed, shorts-and-sandals atmosphere that turns first-time guests into treasured new friends. Located just 21 miles from Southwest Florida International Airport, this Estero Island gem offers easy access to all the activities and attractions of nearby Fort Myers, Naples and Sanibel and Captiva Islands. And while exploring southwest Florida is fun, most guests agree it can't compare to the simple pleasures of The Outrigger's crunchy grouper sandwich and a slice of key lime pie.
Staff Picks
Set Sail (In the Sky!)

16 Nov, 2015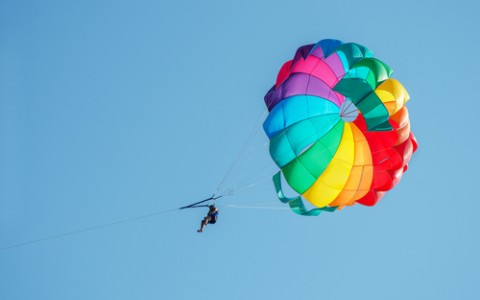 During your stay at Fort Myers Beach, we know you're going to want to enjoy that fresh ocean air. If you're up for some thrills while hanging out beachside, check out Mid Island Water Sports, where you can parasail and enjoy that fresh air from three hundred feet up!

Read More
>
<
"Wonderful Get-Away"
Thanks Outrigger for a wonderful mother daughter get away. The staff went out of their way to be helpful. The location was perfect, on the beach with a great restaurant across the street (Charlie's). Also across the street is a seven eleven and the trolley stop. I hope to make this a new tradition.
MJM762014 - Cincinnati, Ohio
" Loved this fun getaway! "
Two younger friends invited me to go on a surprise two day vacation! It was terrific! Our room looked out to splendid sunsets in the evening and lovely breezes thruout the day. The room was beautiful, clean and fresh! Plenty of towels! Lots of space for clothes for three women! All the employees were friendly and went out of their way to be of assistance. When the sun was going down there was great music at the tiki bar. Anything you need was available in the gift shop I'll go back in a heartbeat!!!
Marcia1TampaFL - Tampa FL
" Great Resort! "
Great place - we were upgraded to the beach front unit and waking up to that view everyday was awesome! Place was very clean. Has a casual restaurant that you can dine in or take out and eat on the deck while enjoying the sunset! There is little tiki hut bar by the deck with music playing during the evening. A built in pool right there next to the bar. They have gift shop which is super cute right on the beach and the service there is wonderful! Totally recommend!
Serena S - Chicago, Illinois
" Can't miss vacation! "
The Outrigger Resort is a vacation stay that you will not forget. Easy beach access, very clean rooms, accommodating staff, beautiful weather, breathtaking sunsets....and a TIKI BAR WITH ENTERTAINMENT DAILY! WHat more could one ask for? We are saving up for a longer stay on our next visit.
Carolyn J - Mount Pleasant, Iowa
" Paradise on Fort Myers Beach Florida "
Thank You to The Outrigger Resort staff. You do a wonderful job keeping up the property. Very clean and comfortable. Nice pool, beautiful beach, lovely rooms, (and I'm fussy) great tiki bar and wonderful sun-deck with plenty of chairs. Theres definitely enough parking for the people staying at the resort. We will definitely be going back here. The staff are very friendly and helpful.
chris l - Grafton, Wisconsin
" Great place for a honeymoon! "
The Outrigger Beach Resort is a must stay!! We stayed here for 6 days and 5 nights for our honeymoon and it was amazing! The staff and resort are wonderful and Fort Myers is a beautiful city. I highly recommend this for couples and families!
Epr717 - Lancaster, Pennsylvania
" Perfect place to celebrate "
We spent two days here recently on a mini-vacation. Our room was very pleasant and clean with a view of the gulf. Everyone was very pleasant and eager to please from check in to check out. At breakfast in the Deckside Cafe, our waitress Debi was quick to accommodate our special request at no additional charge. Much appreciated! We enjoyed the tradition of the conch shell being blown at sunset and experienced one of the loveliest sunsets we've seen.
AlwayspackedFlorida - Florida